Après un retour triomphant dans son groupe Take That en 2010, Robbie Williams s'apprête à réaliser son grand retour en solo dés le 5 Novembre avec son nouvel album, Take the Crown. Son dernier opus, Reality Killed The Video Star, paru en 2009, s'était écoulé à plus de deux millions d'exemplaires dans le monde. Un chiffre qui reste faible à côté de ceux réalisés avec l'album Intensive Care paru en 2005 et vendu à 7 millions de copies.
Pour son come-back en solo, Robbie Williams a donc décidé de ne pas faire les choses à moitié et de prouver son statut de popstar internationale. Dans une interview pour le journal britannique The Mirror, il déclarait en Décembre dernier : « Je suis impatient de partir en tournée, faire de la promo et me donner un coup de pied au cul. Quelqu'un doit être le meilleur dans le monde dés maintenant. C'est ce que je veux être et si je ne le fais pas, je veux m'en approcher. Cette année sera la meilleure année de ma vie. Je veux être un meilleur mari. Je veux être un meilleur type et je veux être aussi heureux que possible. Je veux être en forme l'année prochaine et paraitre comme la meilleure popstar du moment. » *
Une tournée mondiale qui ne devrait pas commencer avant 2013 ! Mais quelques concerts sont déjà programmés pour la fin de l'année au Royaume-Uni ! Robbie Williams sera en effet les 22, 23 et 24 Novembre à l'O2 Arena de Londres ! Infos et réservations.
C'est dans son propre studio d'enregistrement à Los Angeles que Robbie Williams prépare ce neuvième album. Le premier single écrit avec Gary Barlow, Candy, a été dévoilé aux radios britanniques début Septembre et sera disponible le 29 Octobre.

Regardez le nouveau clip de Robbie Williams, Candy :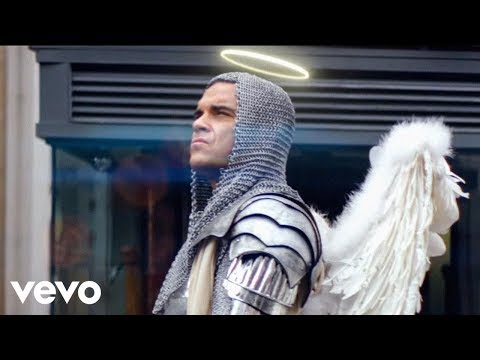 Robbie Williams, Take The Crown – Tracklisting (Deluxe Edition) :

1. Be A Boy

2. Gospel
3. Candy
4. Different
5. Shit On The Radio
6. All That I Want
7. Hunting For You
8. Into The Silence
9. Hey Wow Yeah Yeah
10. Not Like The Others
11. Losers (featuring Lissie)
12. Reverse
13. Eight Letters

DVD Bonus :

1. Making The Album – It's Not Like The Others (Behind The Scenes)

2. The Candyman Day 1 (Behind The Scenes)
3. The Candyman Day 2 (Behind The Scenes)
Écoutez des extraits du nouvel album de Robbie Williams, Take The Crown :
En octobre 2011, le chanteur annonçait son départ de sa maison de disque EMI pour Universal. Il déclarait alors sur son blog, être effrayé par ce changement mais qu'il s'agissait du moment le plus excitant de sa carrière.
A 38 ans, Robbie Williams a vendu plus de 60 millions d'exemplaires dans le monde et est l'artiste à avoir gagné le plus de Brit Awards (équivalent des Victoires de la musique) dans sa carrière.
Cet album s'apprête à être le meilleur de sa carrière et ne ressemblera à aucun de ces précédents opus, selon les propos du chanteur.
En attendant le retour en solo de Robbie Williams, n'hésitez pas à vous procurer le DVD/CD Live de Take That, Progress Live, afin de redécouvrir les plus grands tubes du boys band le plus populaire au Royaume-Uni.
* Traduction par Fabien Furst, toute reproduction sans autorisation ou sans mentionner la source est interdite.
Devenez fan de Fabien Furst Music Entertainment sur Facebook ! // Twitter : @fabienfurst