C'est une excellente nouvelle que Pixie Lott a annoncé ce matin lors d'une interview pour la radio britannique, Capital FM. L'interprète de Kiss The Stars partira prochainement en tournée à travers le Royaume-Uni :  »Être sur les routes est la chose que j'ai toujours préféré faire, je suis impatiente de partir en tournée ! J'espère que ça sera cette année, nous n'avons pas encore les dates. Je veux absolument jouer dans des festivals car les festivals sont juste trop amusants. » *
Le deuxième album de Pixie Lott, Young Foolish Happy, paru fin 2011, s'est écoulé à seulement 70.000 exemplaires au Royaume-Uni, tandis que son premier opus, Turn It Up, approche la barre des 900.000 ventes, deux après sa sortie !
Mais la jeune chanteuse n'a pas dit son dernier mot et semble bien déterminée à imposer Young Foolish Happy auprès du public. Actuellement, c'est Kiss The Stars qui fait office de nouveau single. Le titre a réussi à se classer à la 8ème place des Charts Britanniques. Un joli succès qui permets également à l'album de se rapprocher du Top 50 depuis deux semaines.
Pixie Lott était présente hier matin sur le plateau de l'émission, Daybreak diffusée sur ITV, pour performer Kiss The Stars. Aujourd'hui, c'est sur la radio BBC Radio 1, que l'artiste a prouvé son immense talent lors de sa session 'Live Lounge' en reprenant notamment Dedication To My Ex de Lloyd. 
Écoutez la reprise de Dedication To My Ex de Lloyd par Pixie Lott :

Pixie Lott est nominée aux prochains Brit Awards dans la catégorie 'British Single' avec All About Tonight. La cérémonie aura lieu le 21 Février prochain à l'O2 Arena de Londres. VOTEZ POUR PIXIE LOTT.
Retrouvez l'actualité de Pixie Lott sur Pixie Lott France : Facebook – Site Officiel Français.
Regardez la performance de Pixie Lott sur Kiss The Stars dans l'émission DayBreak :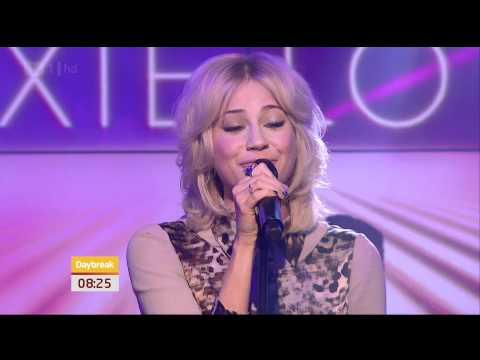 * Traduction par Fabien Furst – Toute reproduction sans mentionner la source est interdite.